WELCOME TO CHURCHTECH
We are pleased to have the opportunity to serve your congregation!
Welcome to the home of ChurchTech.com Analytics!
All organizations that care about their goals and work seek a variety of ways to be accountable, to learn from their history, and to function more effectively.
Churches, in particular, have a heightened need for assessment. First, because their work is of eternal consequence and the Holy Scriptures indicates a great imperative for bearing fruit. Second, because the interaction of many voluntary individuals with overlapping goals and priorities make institutional self-awareness nearly impossible without aid. Third, because the "output" of congregational work is vastly more difficult to measure or track than are the outputs of manufacturing, services, or most other non-profits.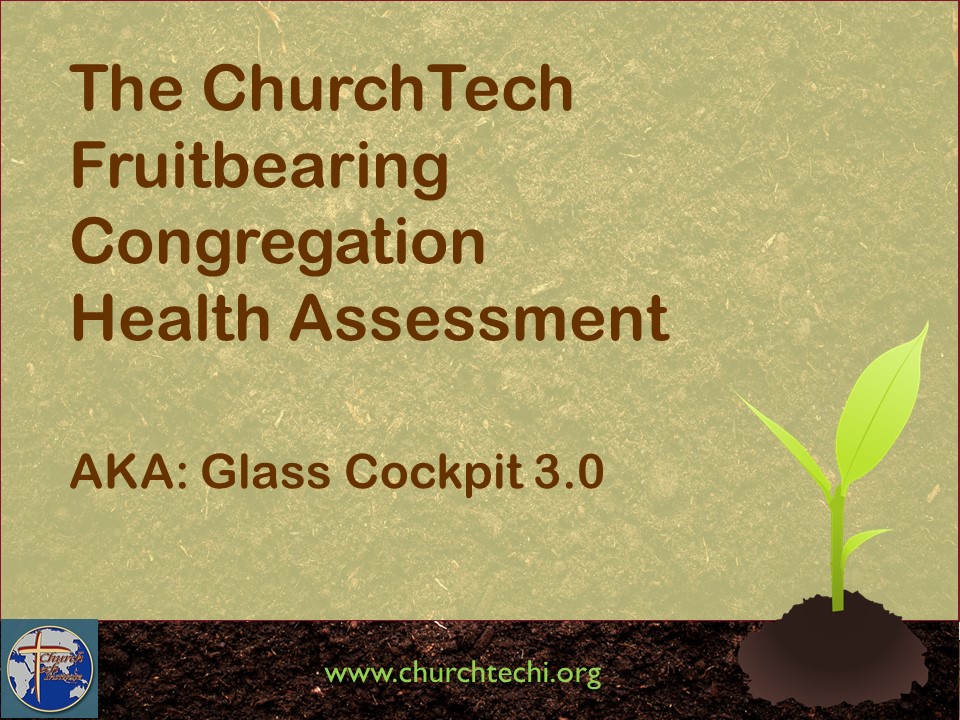 Why this Assessment?
First, it is well rooted. It has been in use as an electronic survey system for over a decade. The questions were derived, tested, and re-evaluated based upon 3 key criteria: historical usage dating back to the 1960's; application of statistical validity norms and practices; the experience of church consultants aware of the "meaning behind the meaning."
Second, it is a carefully constructed amalgam of hard data, attitudes, and impressions – all of which are used to develop a meaningful report.
Third, it is confidential. People are more open and honest when they don't fear retribution. People still retain a variety of other biases – which we filter through a number of statistical methods. Confidentiality is one of the reasons that we do not offer a columnar, all tabs, report view.
Fourth, it is digestible. We include numerous interpretive pages to give context and background for leaders of varied backgrounds to make sense of it. The report is highly graphical to help add clarity. It is formatted for easy sharing as a PDF and/or for group viewing via video projection.
Fifth, it is non-prescriptive. The report never says anything like: "Your score concerning X is very low, therefore you should do Y." This assessment was designed by a consultant and builds upon the expertise of other academics and consultants. It is optimized for imparting useful insights, not for jumping to conclusions about the best solutions for your particular setting.
Sixth, it is not based on a sacramental or Decision Theology model. Some assessments are keyed to a before/after decision for Christ typology: completely excluding all infant baptizing traditions. Some assessments are keyed to sacramental participation: introducing confusion about language and practices that vary across and within denominational traditions. Our methodology, avoids either of these traps!
Seventh, it is optimized for individual and group analysis. Each report is highly useful for the particular participating congregation. The uniformity and special database tagging features lend these reports to judicatory, association, or other analytic groupings. Custom reports can be created for a group while retaining the confidentiality of each congregation and each participant!
Eighth, the entire ChurchTech Fruitbearing Congregation Health Assessment has been configured to allow international use and research. The most gifted minds in ministry analytics are being invited to analyze subsets of the database for peer review and publication. So, each participant in each congregation is contributing not just to the insightful future of a single place—but rather to the knowledge and wisdom accumulation of the whole of global Christendom.